Learning to read travel Brochures is fun.
Words and phrases tend to be more "colloquial" – more like normal speech.I hope you like this colourful and happy one: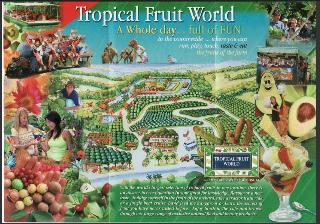 Audio clip: Adobe Flash Player (version 9 or above) is required to play this audio clip. Download the latest version here. You also need to have JavaScript enabled in your browser.
Copy the patterns to use in other situations and circumstances.
eg
"A whole day…full of FUN in the countryside..where you can run,play,touch,taste and eat the fruits of the farm."
Imagine you are writing about a lot of food stalls in a town –
…people can " taste,smell and eat all the local delicacies freshly cooked in one of the largest collection of food stalls in the one location."
I'm just making it up – but you can always learn sentance patterns like this and apply them to any of your own needs.